NEWS
VIDEO: Bristol Palin Engagement Comedic Gift for Late Night Hosts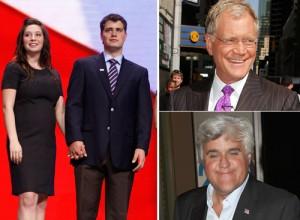 David Letterman may be one of the best known late night comedians to fearlessly take on Sarah Palin jokes night after night — and luckily for Dave, right now comedic business is booming in the Palin joke department. The news that Bristol Palin is engaged to Levi Johnston found Dave as pleased s a kid in a candy shop last night — as it did for late night comics on other networks.
OK! GALLERY: EVENT TO PREVENT BRINGS BRISTOL PALIN TO THE BIG APPLE
Article continues below advertisement
In his opening monologue last night, Dave made a number of quips about the renewed union between the couple — who already have young son Tripp together — saying that Bristol had made the announcement "during an hour-long ESPN special," a jab at Lebron James' big announcement last week.
Catch the rest of Dave's jokes in the clip!
Over at NBC, Jay Leno's monologue on The Tonight Show also took some jabs at the Palin engagement
"Here is the interesting part," Jay explained. "They are not having sex until after they're married... They are sexually dyslexic."
Followed by some crude humor, "The one thing she missed most about Levi is Johnston..."
Following Jay's lead, Jimmy Fallon also took the abstinence route.
"They are practicng abstinence, every night, before they go to bed. Sometimes in the afternoon."
And even The Roots crew chimed in with, "Levi Johnston should have kept his johnson in his levis."