NEWS
VIDEO: Britney & Mom Go Jogging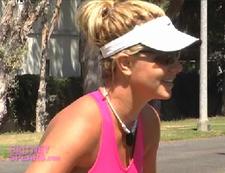 Looking at Britney Spears today, you'd be shocked to think that this was the same woman who, less than 11 months ago, was being hospitalized under court order after barricading herself in her L.A. home with her baby son.
Now, with a hit single and video in "Womanizer" blazing up the charts, and the promise of a game-changing album, Circus, ready to drop on her 27th birthday, Dec. 2 — not to mention her recently announced 2009 tour, the pop superstar's life looks like it has made a complete 180-degree turn in less than a year!
Article continues below advertisement
To show her fans just how committed she is to getting her life back on track — and her famous figure back into pre-breakdown shape — Brit-Brit recently posted a video on her recently relaunched personal site of her getting a workout as she and her once-estranged mom, Lynne Spears, hit the road with Brit's trainer, Seven, for a jog on a beautiful Southern California day.
Scroll down for the full video.
CLICK HERE for OK!'s Ultimate Britney Gallery, with almost 200 shots of the pop superstar and her family!
<object width="508" height="368"><param name="movie" value="http://cdn.buzznet.com/assets/player_buzznet_partner.swf" /><param name="allowScriptAccess" value="always" /><param name="wmode" value="transparent" /><param name="quality" value="high" /><param name="flashVars" value="flv_url=http%3A%2F%2Fcdn%2Ebuzznet%2Ecom%2Fassets%2Fvideox%2F3%2F6%2F6%2F8%2F9%2F3%2F1%2Fvid%2D3668931%2Eflv%3F1225238224&background_url=http%3A%2F%2Fwww%2Ebuzznet%2Ecom%2Fassets%2Fpartner%2Fbg%5Fbrit%2Epng&watermark_url=http%3A%2F%2Fwww%2Ebuzznet%2Ecom%2Fassets%2Fpartner%2F&flv_image=http%3A%2F%2Fcdn%2Ebuzznet%2Ecom%2Fassets%2Fimgx%2F5%2F9%2F6%2F1%2F3%2F2%2F1%2Flarge%2D5961321%2Ejpg&is_bs=true&track_title=Britney%20Spears%20Goes%20Jogging&track_description=Britney%20Spears%20works%20out%20with%20her%20mom%20Lynne%20Spears%20and%20personal%20trainer%20Seven%2E&title_color=0X9AAFC9&recording_id=3668931&provider_id=202" /><embed src="http://cdn.buzznet.com/assets/player_buzznet_partner.swf" quality="high" width="508" height="368" allowScriptAccess="always" flashVars="flv_url=http%3A%2F%2Fcdn%2Ebuzznet%2Ecom%2Fassets%2Fvideox%2F3%2F6%2F6%2F8%2F9%2F3%2F1%2Fvid%2D3668931%2Eflv%3F1225238224&background_url=http%3A%2F%2Fwww%2Ebuzznet%2Ecom%2Fassets%2Fpartner%2Fbg%5Fbrit%2Epng&watermark_url=http%3A%2F%2Fwww%2Ebuzznet%2Ecom%2Fassets%2Fpartner%2F&flv_image=http%3A%2F%2Fcdn%2Ebuzznet%2Ecom%2Fassets%2Fimgx%2F5%2F9%2F6%2F1%2F3%2F2%2F1%2Flarge%2D5961321%2Ejpg&is_bs=true&track_title=Britney%20Spears%20Goes%20Jogging&track_description=Britney%20Spears%20works%20out%20with%20her%20mom%20Lynne%20Spears%20and%20personal%20trainer%20Seven%2E&title_color=0X9AAFC9&recording_id=3668931&provider_id=202" type="application/x-shockwave-flash" wmode="transparent"/></object>