NEWS
Video: Britney's New VMA Ads!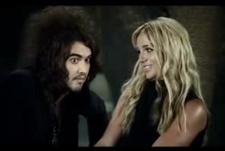 MTV has just released two new TV spots featuring Britney Spears for September's Video Music Awards ceremony.
Both clips show off a much-improved Brit-Brit as she hangs out VMA host British comedian Russell Brand — and a mammoth elephant, a reference to the one huge issue they never discuss: Brit's near-disastrous performance at last year's ceremony.
In the first commercial, Russell asks the pop superstar if he's dreaming and asks her to pinch him... "harder."
Article continues below advertisement
And then in the second clip, the two have a bit of fun with Russell's relative anonymity here in the US, as Brit pretends (we hope!) to not be able to remember his last name. "You will remember that name, because pretty soon it's gonna be your surname," he tells the pop star coyly.
Check out the VMAs on MTV, live from L.A. on Sept. 7.