NEWS
VIDEO: Brittany Murphy's Final Film Role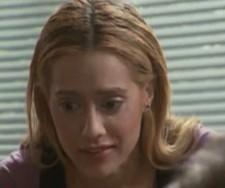 Brittany Murphy's sudden death has left many unanswered questions. In her final film, Abandoned, Brittany plays a woman searching for her husband, played by Dean Cain, after his mysterious disappearance from the hospital following surgery. Her character battles with psychiatric problems, a common role (Don't Say a Word, Girl Interrupted) for the starlet who passed at 32. Director Michael Feifer told Extra that Brittany "glowed all the time."
Article continues below advertisement
"I had a really sweet relationship with her. She was always on the ball," he continued to Extra.
Regarding husband Simon Monjack, Feifer said the screenwriter really loved and cared about Brittany.
"The two of them have the sweetest, most loving relationship," he said. "They watched over each other and took care of each other and we were all shocked at how connected they were."
Abandoned is scheduled for release in 2010.