NEWS
VIDEO: Brittany Murphy's Mom and Husband Deny Drug Rumors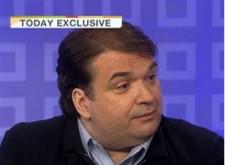 Earlier this morning on The Today Show, Brittany Murphy's husband Simon Monjack and her mother spoke to Matt Lauer in an attempt to shoot down rumors that the late actress, who died in her L.A. home on Dec. 20, was abusing prescription medications, using illegal drugs or exhibited erratic behavior.
"Brittany was not taking any medication for her mood, for anorexia, for mental illness," Said Simon. "It's utterly ridiculous."
Article continues below advertisement
Simon added that most of the medications found in their home following the star's sudden death belong to him.
As for reports of cocaine abuse, Sharon says that Brittany had been diagnosed with a heart condition at a young age and was "terrified" of what would happen if she were to use illicit drugs.
"If she had done cocaine, she would have died in seconds," said Simon.
Visit msnbc.com for breaking news, world news, and news about the economy