NEWS
VIDEO: Charlie Sheen Starts Live 'Sheen's Korner' Webcast; 'SNL' Spoofs the Actor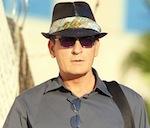 Although Charlie Sheen recently opened up a Twitter account to voice his sometimes erratic thoughts, the Two and a Half Men star has taken to a new form of outlet with the premiere of his live webcast, Sheen's Korner.
On Saturday night at 10 PM, Charlie began to broadcast live from a desk at his house giving his UStream TV webcast the tagline, "You're either in Sheen's korner or with the trolls!"
OK! NEWS: SEAN PENN WOULD "TRUST" CHARLIE SHEEN'S SUPPORT IN HAITI
Article continues below advertisement
The actor continued to speak about a new tattoo on his wrist that reads, "Winning," and had guest appearances by one of the "goddesses" Natalie Kenly.
At one point, Charlie even drank out a of children's sippy cup and discussed his twin boys on the show, which he claimed was sponsored by, "Tiger's blood."
OK! NEWS: CHARLIE SHEEN SAYS HE'S PROUD OF BEING JEWISH; HEADING TO HAITI WITH SEAN PENN
On the same night, Saturday Night Live decided to poke fun at the dad's recent statements with a skit by Bill Heder.
Take a look at the laugh-out-loud spoof below: