NEWS
VIDEO: Christina Aguilera Talks Divorce & Turning 30 on 'Ellen'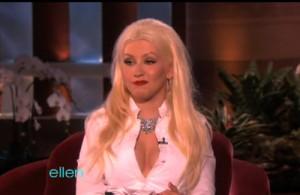 Christina Aguilera is very focused when it comes to motherhood. The singer turned actress may be very busy promoting her new film Burlesque; however, her main role is caring for her two-year-old son Max. Christina opens up about her divorce from her husband of five years, Jordan Bratman, sharing custody of Max and turning 30 this afternoon on Ellen.
"My focus first and foremost is my son Max," she tells host Ellen DeGeneres. "More power to single moms and those out there doing it. I was raised by a single mom. But you know what, at the end of the day....He's the love of my life."
Article continues below advertisement
As far as turning 30 this December, the star doesn't seemed to concerned.
"It's better than turning 20, I'll tell you that," Christina said. "You're more comfortable in your own skin as a woman. You have a better idea of what you want and how to get it. At this time in my life, it's a huge turning point, it's a transitional stage and I'm ready. I'm ready."
Catch clip below and Ellen's full interview with Christina today at 4 p.m. on NBC.