NEWS
VIDEO: Conan O'Brien's Opening Tour Show a Success!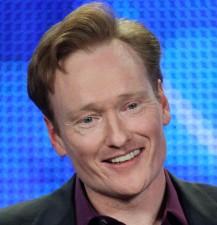 Last night Conan O'Brien kicked off his Legally Prohibited From Being Funny on Television Tour in Eugene, Ore. in front of a crowd of 2,500 fans. The entertaining show Conan put on for fans was part musical and part late-night variety show.
"You may have heard: I got a new job," he told the crowd, via MTV News, joking he would be assistant manager at Banana Republic. "I'll be in the corduroy section."
Article continues below advertisement
OK! NEWS: CONAN O'BRIEN PICKS TBS OVER FOX
Conan's tour launched the same day his new TV late night spot on TBS was annouced.
The ginger comedian did most of did most of his NBC jabs in a Doctor Evil-like character, according to MTV.
He wore gaudy outfits, belted out his own version of I Will Survive and was joined by several guests on the first stop of his 32-city nation-wide tour.
George seems very happy about Conan's addition to the TBS late night family and told his studio audience last night he was "100% on board" with his new late night companion.
"We'll have the best hair on late night," George quipped.