NEWS
VIDEO: Daddy Lohan Weighs in on LiLo's Figure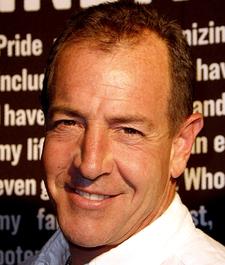 Lindsay Lohan says that if she's dropped a few pounds recently, it's just because of nothing more sinister than her hectic lifestyle.
But her dad says he's worried enough about her health to talk to her about the disappearing pounds.
"Lindsay goes through her fluctations in weight for different roles she's in, and travelling and what she's eating and taking care of herself," Michael Lohan told the Good Day Philadelphia show this morning.
Article continues below advertisement
He added, "I'll talk to her about it — I'll see what's going on."
However Lindsay's spotlight-loving pop admitted that he's not in touch with his oldest daughter as often as he'd like because of the hate-hate relationship he has with her DJ girlfriend, Samantha Ronson.
"Our relationship has been a little strained because of her relationship with Samantha," said Michael, "but we do communicate."
<object type="application/x-shockwave-flash" id="video" width="395" height="336" data="http://www.myfoxphilly.com/video/videoplayer.swf"><param value="http://www.myfoxphilly.com/video/videoplayer.swf" name="movie"/><param value="&skin=MP1ExternalAll-MFL.swf&embed=true&adSrc=http%3A%2F%2Fad%2Edoubleclick%2Enet%2Fadx%2Ftsg%2Ewtxf%2Fwildcard%5F1%3Bdcmt%3Dtext%2Fxml%3Bpos%3D%3Btile%3D2%3Bsz%3D320x240%3Bord%3D570532908322203900%3Frand%3D0%2E0859498467453842&flv=http%3A%2F%2Fwww%2Emyfoxphilly%2Ecom%2Ffeeds%2FoutboundFeed%3FobfType%3DVIDEO%5FPLAYER%5FSMIL%5FFEED%26componentId%3D121726830&img=http%3A%2F%2Fmedia2%2Emyfoxphilly%2Ecom%2F%2Fphoto%2F2009%2F02%2F24%2F022209Lohan%5Ftmb0000%5F20090224085234579%5F640%5F480%2EJPG&story=http%3A%2F%2Fwww%2Emyfoxphilly%2Ecom%2Fdpp%2Fgood%5Fday%5Fphiladelphia%2F022409Lohan" name="FlashVars"/><param value="all" name="allowNetworking"/><param value="always" name="allowScriptAccess"/></object>
But when the show's host asked him what he thought of the millions of pictures we've seen of Lindsay by Sam's side over the past year, he said cryptically: "Well is Lindsay a DJ or is she an actress -- that's my question."
Well we'll have to check the history books, Michael, but we're pretty sure it's the second one.