NEWS
VIDEO: Daniel Radcliffe Shows Off His Elemental Singing Skills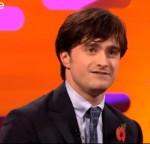 While in real life he might n not have the power to fly around on a broomstick, defeating the dark forces of evil in this world, Daniel Radcliffe is still something of a wizard — at least when it comes to the periodic table of elements! The Harry Potter star showed his skill at singing all the elements on Britain's Graham Norton show recently.
OK! PHOTOS: EMMA WATSON AVOIDS WARDROBE MALFUNCTION WITH TAPE
Article continues below advertisement
Relaxing on a couch with Rihanna and Colin Farrell, Danny admitted he was a little nervous to perform under pressure, but he managed to sing his way through it!
CHECK IT OUT BELOW: