NEWS
VIDEO: Demi Lovato Sends Thanksgiving Message to Fans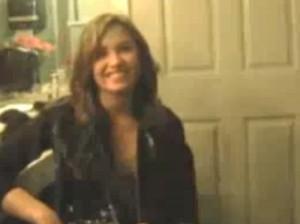 This holiday weekend, fans of Demi Lovato received a special message from the Disney star. But how did Demi share her thankful thoughts if she is currently rehab?
It looks like the video was pre-recorded.
Members of Demi's official fan club received a very kind message wishing everyone a Happy Thanksgiving!
Of course, confusion set in as Demi is currently in rehab focusing on her recovery from an undisclosed condition. But it looks like the tape was pre-recorded as her hair is highlighted and at the time she entered a treatment center in October, it was dark brown.
Article continues below advertisement
"Hey Demi Lovato Fan Club, just wanted to say Happy Thanksgiving," Demi addressed fans in the video, "I'm very, very thankful for all of you and I appreciate all the support you guys give me."
Demi has in recovery at a rehab center since Halloween weekend when she suddenly quit her South American tour with the Jonas Brothers after an alleged fight with a back-up dancer.