NEWS
VIDEO: 'Eclipse' Leading Ladies Ravish in Red for 'Vanity Fair'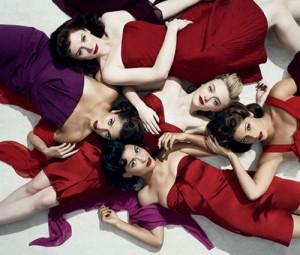 The five leading female vampires of The Twilight Saga: Eclipse and one lady werewolf opened up and did a fab photo shoot for the August issue of Vanity Fair! Dakota Fanning, Nikki Reed, Ashley Greene, Elizabeth Reaser, Bryce Dallas Howard and the one lone member of the wolf pack Julia Jones,who plays Leah Clearwater, shared some tales from the set between takes of their shoot!
"Bella and Edward's love is very taboo and forbidden," Nikki tells VF of the appeal that the storyline has of the third installment, Eclipse. "I think that kind of represents all youthful relationships, because that's what all first loves feel like… It's sort of borderline, like, insane."
Article continues below advertisement
Elizabeth, who plays vampire mom Esme, said she is no longer phased by the attractive young actors on the set.
"Oh, it gets so old, you have no idea," she says. "It has no effect on me. They're all gorgeous and lovely boys… You just want someone interesting and weird at a certain point. I have a massive crush on Larry David."
Bryce admits she is a complete Twi-hard.
"I had seen Twilight innumerable times. After I saw it for the fourth time, one of my best guy friends, for my birthday, made me Post-it notes with Robert Pattinson's face that said, 'Live Dangerously,' because I was so obsessed. My husband actually said to me, 'Do I need to be worried about this?' "
OK! NEWS: ASHLEY GREENE — "ROB NEEDS TO TAKE ROMANCE SERIOUSLY!"
Ashley is confident the movie will be a box office smash!
"You don't have to be psychic to know how this movie's going to do," she says. "Obviously, it's going to be a hit."
WATCH THIS CLIP FOR BEHIND-THE-SCENES FOOTAGE AT THE SHOOT!