NEWS
VIDEO: Elizabeth Reaser Dubs 'Eclipse' Tent Scene a "Three-Way"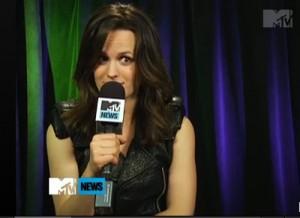 So how intimate do Robert Pattinson, Kristen Stewart and Taylor Lautner get in the Twilight Saga: Eclipse? According to their co-star Elizabeth Reaser, who plays Esme Cullen in the hit vampire romance, the highly-anticipated tent scene between the beloved trio gets pretty steamy!
"The tent scene, I remember that being one of the hottest scenes in the books, so I'm excited to see that," Elizabeth told MTV News. "I'm Team Edward, so I can't relate to Bella being torn between Edward and Jacob, but I mean, come on, vampires are cool! Wolves are super hairy and they smell disgusting, like dogs."
Article continues below advertisement
OK! NEWS: NEW ROBERT PATTINSON, KRISTEN STEWART & TAYLOR LAUTNER ECLIPSE POSTER
Elizabeth also explained that the tent scene ups the sexual connection in the third installment compared to the previous Twilight Saga films.
"The tent scene is sort of a three-way — I mean, it's a chaste three-way, but it is, nonetheless, a three-way," she said. "So I do think that ups the sexiness factor in this movie, but I don't know. The first movie, I thought, was intensely sexy, because they couldn't touch, and to watch them fall in love was so sexy. And I love that, in the books, they all have great chemistry. So, it's fun to watch."
Elizabeth knows that Twi-hards are anticipating the tent scene as is she.
"I have no realistic idea of what excites people. I'm always surprised," she said of what fans are looking forward to. "If I were a fan? I'm starting to sound like a sicko, but I would say the tent scene. I mentioned it like five times now. It's getting weird. That's my son! I'm happy we're not really related, so it's not that weird.
"I'm excited to see the action, like running through the forest," she continued. "I was running on the back of the truck at 30 miles per hour, so I'm excited to see that."
CHECK OUT THE NEW ISSUE OF OK! FOR THE EXCLUSIVE ON ROB'S MARRIAGE PROPOSAL TO KRISTEN, IN STORES EVERYWHERE THURSDAY, MAY 20!