NEWS
VIDEO: Eminem & Rihanna's "Love The Way You Lie" Music Video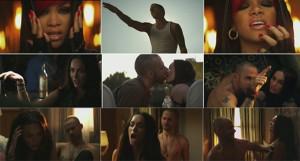 Eminem's new video for his hit single, featuring Rihanna, "Love the Way You Lie" has a very deep meaning for both artists. The video tells the story of two impassioned lovers — played by Megan Fox and Dominic Monaghan — whose passion turns violent as their relationship waves between lust and anguish.
OK! GALLERY: RIHANNA STOPS AT SAKS FOR SOME SHOPPING
The video debuted Thursday night on MTV, and begins with Rihanna singing the chorus in front of a burning house.
Article continues below advertisement
Rihanna indirectly takes on domestic violence in the video, a situation she is unfortunately all too familiar with from her own tumultuous past with ex-boyfriend Chris Brown.
OK! NEWS: DOMINIC MONAGHAN ON KISSING MEGAN FOX — "IT'S ALL RIGHT"
The video vacillates, showing the tragic relationship between the two lovers, one minute in a fit of passion and the next in rage.
The couple meets in a bar and has instant chemistry; later, their vices of shoplifting and infidelity become evident to the viewer.
Towards the end of the video, Eminem and Rihanna join together and perform in front of the burning house.
"I think we tried as hard as we could to not glorify the violence, to try and explain that this was a relationship that is by no means ideal and a relationship that probably should have ended a lot sooner than it did," Dominic told MTV News recently. "The concept of 'Love the Way You Lie' was essentially a look at the relationship that Eminem was in with his wife, Kim, so I kind of felt like I was playing Eminem a little bit, and Megan Fox was kind of playing Kim.
Article continues below advertisement
"It's the story of them getting to know each other, and it's the story of their tumultuous relationship, and it was the story of the breakdown of their relationship," he added. "Ultimately, what I think he's trying to say in the song... is that he should have walked away a little bit quicker than he did and not let it get as messy as it did."