NEWS
VIDEO: Exclusive 'Eclipse' Sneak Peek from 'New Moon' DVD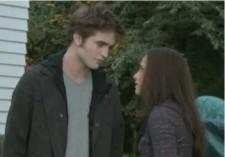 If the DVD release of New Moon on March 20 isn't reason enough to celebrate, here is another present for all the Twi-hards out there — never before seen footage from the upcoming third installment of the Twilight Saga, Eclipse! The film's hottest stars speak about their characters evolution in third film, and give some insight on the action-packed, highly-anticipated vampire romance flick!
Looks like it's war between Edward (Robert Pattinson) and Jacob (Taylor Lautner), as their pursuit for Bella's heart picks up.
Article continues below advertisement
"That's part of the reason they got David Slade who is traditionally a dark director," Michael says.