NEWS
VIDEO: 'Glee' Britney Promo Brings Back Pop Princess's Best Hits!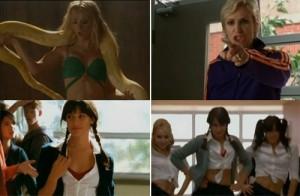 One of the best moment of last night's Season 2 debut of Glee may have been the preview for next Tuesday's Britney Spears-themed episode. Heather Morris and Lea Michele play homage to the pop princess — bringing back some of her most famous music video looks (from her early days as a school girl to the python!).
In the Brit-Brit episode, Cheerio/Glee club member Brittany and the gang try to convince Mr. Schuester to let them do a BS number, but he fears doing something so edgy.
Article continues below advertisement
"Me Against The Music," "Toxic," "…Baby One More Time" are just some of the songs that will be featured in the episode.
The promo does not show Brit's cameo — they must want to keep it a complete surprise!
Last night's season 2 premiere had 12.3 million viewers, up 20 percent from last fall's premiere, according to Just Jared.