NEWS
VIDEO: Heather Morris is 'Glee'ful Over Britney Spears Thank You Gift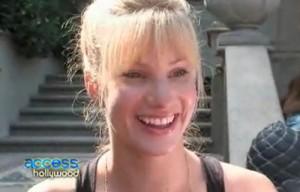 If you didn't know her talent already, Glee star Heather Morris definitely solidified her role on the hit Fox show, as she did an amazing job channeling the one and only Britney Spears during last week's episode. Heather did such a great job, that her performance led to a thank you gift from the pop princess herself! What was the special surprise?
"She sent me some flowers and I got a note that said, 'Good job. Love, Britney,'" Heather told Access Hollywood.
Article continues below advertisement
OK! VIDEO: GLEE-CAP —BRITNEY SPEARS ROCKS MCKINLEY HIGH; POP PRINCESS TWEETS EXCITEMENT
The thoughtful gift left Heather with a bit of a dilemma, however.
"I got totally nervous because I don't know what to send her back," she said. "I'm trying to figure that out."
But, she seems to have an idea already formulating.
"I think I'm going to make her a mug because there is that picture of her and I that she Tweeted – I think I'm going to make her a mug with our picture with flowers in it or something," she said.
Heather took on a hefty role filled with a number of dance performances.
"We only did like one day's worth of rehearsals," Heather, who is a former professional dancer, added.