NEWS
VIDEO: Ice Queen Martha Stewart Heats Up the Stripper Pole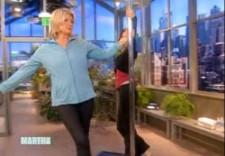 Domestic diva Martha Stewart knows her way around the kitchen, and apparently she is no stranger to working a stripper pole either. The often conservative (in appearance) Queen of cooking and home decor had no difficulty pole-dancing today on her show. S Factor founder Sheila Kelley — the guru of the pole-dancing workout — taught the 68-year-old host some moves on the set of The Martha Stewart Show.
Article continues below advertisement
To the surprise of many, Martha thought the exotic dance routine was "a good thing."
It did not take much for Shelia to encourage Martha to twirl around the poll.
"She got me on the pole!" Martha exclaimed, as she swung around.
"I don't know what else to do," she added.
Martha joked with Sheila that she'll wait until next time to try sliding down the pole upside down.
"S Factor was born when I discovered my sensual power and the best body of my life while preparing for my role as an exotic dancer," Sheila states on the Web site for the unique form of exercise. "My life changed so profoundly just from moving in this organically feminine way that I've dedicated myself to sharing this extraordinary Journey with other women."
Do we like this new wild side of the coined "Ice Queen"?
...and all the latest news, fashion and photos!