NEWS
VIDEO: Inside George Clooney's Bathroom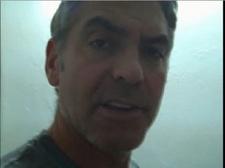 Never let it be said that George Clooney was afraid of roughing it. Also, never let it be said that George had no problem complaining on videotape about having to rough it.
While in the town of Goz Beida, on the border of African nations Chad and Sudan, where the Oscar-winning actor and director has been touring to bring attention to the human rights atrocities in Sudan's Darfur region, he took a minute out from trying to change the world so he could shoot a video diary about his less-than-4-star lavatory.
Article continues below advertisement
SCROLL DOWN TO SEE THE VIDEO
"That's the water bucket you use to flush the toilet," a grizzled Clooney grumbles to the camera. And pointing to a bit of red rubber tubing, he smirks, "The hose here... That's the shower... Nice."
Ultimately, the video devolves into George suddenly breaking into an impersonation of 60 Minutes' master of complaints Andy Rooney... Maybe you should just watch for yourself: