NEWS
VIDEO: Jaimee Grubbs (Sort Of) Felt Guilty Sleeping with Tiger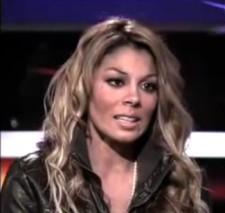 News flash: Sleeping with a married father of two might, just might, make a woman feel the teensiest bit guilty. Jaimee Grubbs, one of 11 women reported to have had an affair with Tiger Woods, tells Extra she had a few guilty moment. "I guess if I were to think about it, I did feel guilty that he was spending his time with somebody that isn't his wife," she says in the interview. "But you know, he never mentioned her. I never thought about it."
Article continues below advertisement
Sounds like she really regrets it, no?
Jaimee explains that by the time Tiger had married Elin Nordegren, "we already had this relationship. And he was the one who pursued me, and I just kind of got involved in this... I had invested emotions in it. I let myself think, 'out of mind, out of sight' type feelings."
Even though Tiger's ladies are well into the double digits, Jaimee, who says she was intimate with him about 20 times over a three-year period, claims he's not a sex addict.
"The Tiger that I knew, I would never think that," she insists.
Jaimee does reveal that Tiger apparently has a sleeping problem — other reports say Elin told police he'd taken Vicodin and sleep aid Ambien before his car crash on Nov. 27.
"He did never sleep," she says. "I mean, even if he wanted to go to bed at maybe 10, he wouldn't fall asleep until 12:30, 1 AM, and then he'd be up at 3 a.m.."
"I'm sure he has so much on his mind, and I couldn't ever imagine it being put to sleep," she says. "He very much does have a sleeping problem."