NEWS
VIDEO: James Franco Wants to "Do a Bit With the 'Twilight' Kids" at Oscars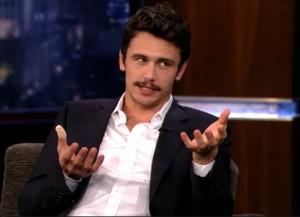 James Franco has a lot on his plate right now! The 32-year-old actor flew from NYC to L.A. Thursday just to have a quick chat with late night host Jimmy Kimmel before heading back across the country in time for class! "I'm a nerd," the Hollywood hunk, who is currently in graduate school, quipped. James also talked about his decision to host the 2011 Oscars and his film, 127 Hours.
"I never thought I would do it," James admitted of his Academy award hosting gig."I wanted to do a bit with the Twilight kids. I wanted to be a part of that movie by the way. Like the last two movies. I asked Bill Condon if I could be in and he turned me down."
Article continues below advertisement
"Maybe I could sing with Rob Pattinson on the Oscars," he added. "They weren't up for that."
James was approached by Oscar producer Bruce Cohen — who also produced Milk — about taking on the task.
"My immediate reaction was no," he shared. "But I had three days to think about it. And then I thought of course. of course I have to do it. It's kind of a once in a lifetime thing."
As far as his co-host Anne Hathaway, James admitted, "I've never met her."
"Oh good, so the chemistry is there," Jimmy quipped.
"We are text message buddies right now," James assured the worried host.
While James may be hosting the highly-anticipated award show, he may also be nominated for his role as American mountaineer Aron Ralston in 127 Hours.
Article continues below advertisement
"It makes you insane," James said about the Oscar buzz surrounding the movie.
When the Academy of Motion Picture Arts & Sciences' executive director Bruce Davis told James that no one has hosted the Oscars and won an award on the same night, he said he felt co-hosting would take the "pressure off."
Catch clips from the funny interview below!
James on wanting to join the Twilight cast on stage at Oscars.
James on hosting Oscars and Oscar buzz surrounding 127 Hours.