NEWS
VIDEO: Jen Aniston Talks Making Babies With Jay Leno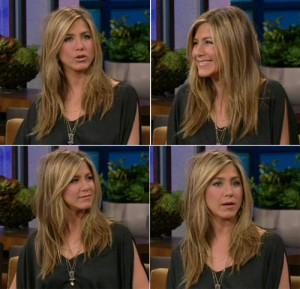 Jennifer Aniston stopped by the Tonight Show to chat with Jay Leno about her upcoming film, The Switch. The 41-year-old A-lister glowed in a short black dress paired with sling-back black pumps and very simple hair and minimalistic makeup. Jen dished on her first summer job, living in Greece with her family, her new perfume and artificially making babies!
Jen told Jay she hasn't really had much of a summer, and has instead been busy acting and hard at work with her production company.
Article continues below advertisement
She stars as Kassie Larson, an unmarried 40-year-old woman who uses a turkey baster to get pregnant with a sperm sample.
Jason stars as Wally, Kassie's best friend, who secretly switched the sperm sample with his own and reunites with Kassie seven years later.
When Jay asked about wanting to have kids, Jen responded coyly, "Geeze, that question has never been asked to me."
Catch Jay's interview with Jen in the following clips!
Catch The Switch Trailer!