NEWS
VIDEO: Jennifer Garner Gets Bubbly For 'Butter'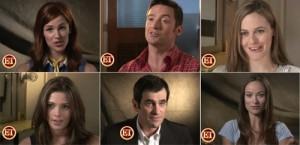 Jennifer Garner is one A-list actress that does it all! The mom of two always makes time for her daughters, Violet and Seraphina Affleck, but is also hard at work on two movies — Arthur, co-starring Russell Brand and Helen Mirren and Butter where she stars opposite Hollywood hunk Hugh Jackman!
In the film, expected in theaters next year, Jen plays Laura Pickler, the loyal wife of a blue-ribbon butter carving king, played by Ty Burrell of the hit ABC comedy Modern Family.
Article continues below advertisement
"She's very ambitious for the two of them. And he decides without talking to her that he is going to give up butter carving and become a judge — and it makes her crazy," Jen told Entertainment Tonight of her character.
Hugh plays a cowboy still in love with Jen's characters, his old high school sweetheart.
"They were probably meant to be together and she dumped him," Hugh told ET. "And even though he's remarried… the moment she turns up on his doorstep he drops everything… it's like, 'This is my second chance.' So he's very briefly very happy.'"
Butter also stars Twilight beauty Ashley Greene and Olivia Wilde who plays the sassy town stripper who wants to melt Jen's butter champ dreams.