NEWS
VIDEO: Jesse James Says "I Wanted to Get Caught"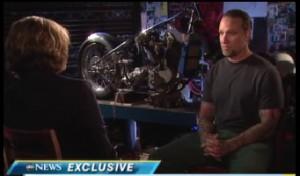 In another clip released from Jesse James' interview with ABC News, Sandra Bullock's estranged husband attempts to explain why he cheated on his Oscar-winning wife. "It was me trying to self-sabotage my life," Jesse says.
OK! GALLERY: JESSE JAMES TAKES KIDS TO SCHOOL SANS WEDDING RING
"It made me feel horrible," James tells Nightline of his affair. "And I knew I would get caught eventually, and I think I wanted to get caught. I don't think, I know for a fact now what it was. It was me trying to self-sabotage my life."
Article continues below advertisement
"The last person I would ever want to harm is her or the kids," he explains. "I spent my whole life with the kids and her, trying to protect her. But the most hurt she's ever been caused is by the person who wanted to protect her."
OK! VIDEO: JESSE JAMES SAYS "I'M THE MOST HATED MAN IN THE WORLD"
"It's really, it's terrible," Jesse acknowledges. "And she's going to hurt for a long time."
It's hard for me to talk about it a little bit, because I still really love and care about her."
Jesse's full interview airs Tuesday, May 25 at 11:35 p.m. ET/PT on ABC.