NEWS
VIDEO: Jimmy Fallon Gears Up for the Emmys; Social Networks Get Ready!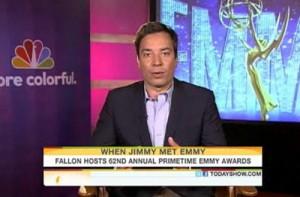 Jimmy Fallon is known for using social networking into his late night talk show, so why not bring it to the Emmys! This year's host chatted with the Today's Ann Curry about using viewers Tweets for presenter introductions, the jam-packed opening number and his overall excitement for Sunday night's 62nd annual primetime Emmy Awards!
Fans of Jimmy on Twitter were asked to Tweet an intro. about the award-winning talk show host, and @FunnnyFallontine won with her humorous line,"The greatest thing since the toaster. Dr. Jimmy Fallon."
Article continues below advertisement
OK! GALLERY: PRE-EMMYS CELEBRATING STARTS EARLY WITH SMALL SCREEN STARS
Jimmy got a a good laugh out of his intro. from Funny Fallontine!
"Basically you can be sitting at home watching the Emmys, and then you can give your own intro. of how you would introduce that presenter," Jimmy explained to Anne of how the Tweeting during the live broadcast will work on Sunday. "You can be sitting at home in your underwear and be on the Emmys!"
OK! VIDEO: JIMMY FALLON FINDS HIS INNER 'MAD MEN'
Rumor is that Jimmy beat out Jerry Seinfeld, Tina Fey and Steve Carell for the Emmy hosting gig!
"This is fantastic. It makes me feel better about myself," he said.
So how about that star-studded, surprise celeb guest opening number (rumored to star Kate Gosselin and Betty White?)
Article continues below advertisement
"I don't want to give away anything about the opening, but I can tell you this. I have a lot of people involved in the opening, as many people as I could that were involved in television this past year... I got lucky. I had a lot to work with this year."
Jimmy is also gearing up for an interview with Larry King, and the hosts Tweeted at each other to avoid any wardrobe issues!