NEWS
VIDEO: Jimmy Fallon vs. Betty White in Beer Pong!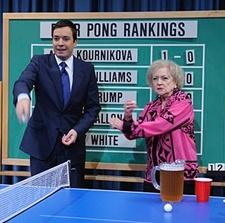 How can you not love Betty White? Not only is she a TV legend — one of the funniest people to ever star on the small screen — but even at the age of 87 she's not one to shy away from behaving like a teenager.
Just check out the below clip of the former Golden Girl on Thursday night's Late Night with Jimmy Fallon. The actress and animal rights activist, whose latest film, The Proposal, opens on June 19, stopped by the show to chat with Jimmy and stuck around when he challenged to a grueling Beer Pong match!
Article continues below advertisement
"When I play this game, I play for blood," the host warned his guest before starting.
"Me too!" she replied. "No pity!"
Watch this clip from Thursday's show to see if Jimmy, who had a perfect losing record in on-air Beer Pong until this match was finally able to come out victorious!
<object type="application/x-shockwave-flash" data="http://widgets.nbc.com/o/4727a250e66f9723/4a31d81c35e1e26d/4741e3c5156499a7/9030d791/-cpid/4432a6dc5235f7f5" id="W4727a250e66f97234a31d81c35e1e26d" width="384" height="283"><param name="movie" value="http://widgets.nbc.com/o/4727a250e66f9723/4a31d81c35e1e26d/4741e3c5156499a7/9030d791/-cpid/4432a6dc5235f7f5" /><param name="wmode" value="transparent" /><param name="allowNetworking" value="all" /><param name="allowScriptAccess" value="always" /><param name="allowFullScreen" value="true" /></object>