NEWS
VIDEO: John Mayer Donates Song & $500K to Haiti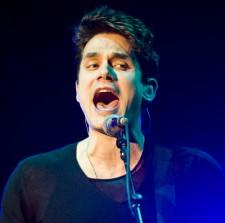 The American Red Cross today launched national television and radio public service advertisements for Haiti relief efforts that features the music of seven-time Grammy Award winning musician, John Mayer. John donated the song "The Heart of Life" and $500,000 to support relief efforts. Nice to hear John isn't too busy sending dirty text messages to help Haiti!
OK! NEWS: JOHN MAYER: I WRITE A LOT OF DIRTY TEXT MESSAGES TO GIRLS
Article continues below advertisement
The PSA shows how even the smallest donation can make a difference to those affected by the devastating January earthquake.
John's song, "The Heart of Life," serves as the soundtrack and contains optimism in the lyrics: "Pain throws your heart to the ground, love turns the whole thing around. No, it won't all go the way it should but I know the heart of life is good."
John joined relief efforts early by performing on CNN'S Larry King Live special and asking fans via text messages and Twitter to lend their support. He also donated $500,000 by his Back to You Fund directly to the Red Cross.
OK! NEWS: DOZENS OF CELEBS JOIN LARRY KING TONIGHT FOR HAITI SPECIAL
"Terrible times like these bring out the best in people, and we are grateful for every gift given to the American Red Cross," Gail McGovern, president and CEO of the American Red Cross said. "We thank John Mayer for his generosity – he's lent his time, talent AND money. With his help and that of so many others, we'll do everything we can to help the people of Haiti cope and recover."