NEWS
VIDEO: John Mayer Talks Relationships with Ellen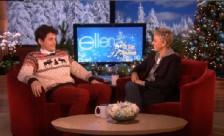 Ellen DeGeneres can get anyone talking about their personal lives, including John Mayer! The infamous ladies man opened up to Ellen about what he plans on doing differently in the new year.
"I'm not dating," John said. "I don't know if you know this: I have sort of a funny track record, which is actually not that strange given my age. I'm a little freaked out right now about it, to be honest."
The sweater may make him look younger, but it actually made him sound wiser.
Article continues below advertisement
"Or, for some reason, whoever I date has been famous for a while. I can't sit here and be like, 'Oh please let me live my life in private with this famous person who's been around for 15 years.' I have to figure out what are the things that I ask for and sign up for in terms of cause and effect," he explained to Ellen. "The last thing you want to see me doing is bashing my head going, 'I'm shocked that I'm being followed right now.' I have a good heart; I think I may have gotten lost a couple of times, but so does everybody."
Though what John says makes a lot of sense, it's still hard to take him seriously when he looks like he was dressed by his mother for the show!