NEWS
VIDEO: Johnny Depp Says Angelina Jolie is "Madly in Love With Her Man"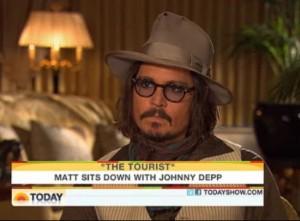 Johnny Depp hadn't met Angelina Jolie before starring in The Tourist together, but it didn't take him long at all before he became a big Angelina fan.
OK! GALLERY: ANGELINA JOLIE TAKES HER BUBBLY BROOD SHOPPING IN THE BIG APPLE
Before they got starting filming The Tourist, Johnny and Angie had a meeting to see if there was something between them that could click on screen.
"How long does it take to know that?" Matt asked Johnny during an interview on the Today show.
Article continues below advertisement
"It was actually pretty instantaneous," Johnny said. "It was instant."
OK! GALLERY: BEAUTIES ABOUND AT THE TOURIST PREMIERE
"What was it about her that made you feel that way?" Matt asked.
"Having heard a lot about their lives... Brad Pitt and Angie's live are so highly publicized you wonder what might this person be like after having to live this life to that degree," he explained. "When I met her I just found her to be as perfectly grounded as she could be. Very down to earth, very sweet, very smart and very funny. Madly in love with her children, madly in love with her man and madly in love with her life. Just a very normal and well-rounded human being."