NEWS
VIDEO: Jon Gosselin Getting Back in the TV Game?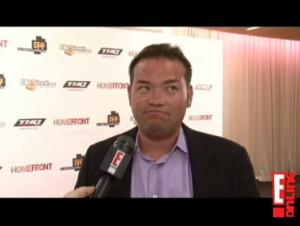 Have you missed seeing Jon Gosselin on TV? Maybe? Fans of the Plus 8 dad will be pleased to hear that while his ex Kate Gosselin has a show with the kids coming up, Jon might be showing up on a small screen at some point in the future. Possibly. He's not sure.
While he's still under contract with TLC and can't sign on for other work yet, Jon tells E! News he's far from sitting around twiddling his thumbs. Heck, he might even do Dancing With the Stars if they asked!
Article continues below advertisement
OK! GALLERY: KATE GOSSELIN HAS NO REGRETS!
"I'm interested in going back on TV," he tells E! News. "I'm not sure about a reality show or whatever but I'm meeting people and seeing what is out there programming-wise. I haven't been on TV for a while — first time in about six months so I am just kinda laying low, focusing on my life, getting back with my kids and figuring things out."
Jon's already got some moves, a perfect fit for DWTS, we think!
"I know I have rhythm and I know I can dance, but I don't know about me going on. No one has said anything to me," he says. "But I took ballroom dancing. I'm pretty fluent in that sort of thing. But after watching it I'm like, Ugh, so much criticism. I think you should go out there and just have fun anyway."
FOR MORE ON JON AS HE SUPPORTS KATE GOSSELIN IN HER NEW ROMANTIC ENDEAVORS, PICK UP THE NEW ISSUE OF OK! — ON SALE EVERYWHERE NOW!