NEWS
VIDEO: Josh Groban Gets In Tune with Kanye West's Tweets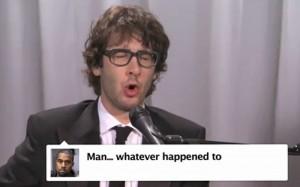 Who knew Josh Groban had a comedic side? The Oscar and Grammy nominee performed some of Kanye West's greatest Tweets of all time in a new video from Jimmy Kimmel Live Monday night, debuting his spoof album.
"At most his Tweets are 140 characters, but the depth, his passion is immeasurable," the 29-year-old singer explains in the commercial for "Josh Groban: The Best Tweets of Kanye West."
Article continues below advertisement
The commercial also boasts that the spoof album features 752 songs on 48 CDs.
"It was an honor to sing these. I sincerely hope he doesn't lash out at me with sick floetry," Josh Tweeted.
Josh also performed "Voce Existe Em Mim," a Portuguese song from his new album, Illuminations on the late night TV show.
Check out the videos, via Just Jared, below!