NEWS
VIDEO: Julia, James & Javier Talk Nerves on 'Eat Pray Love' Set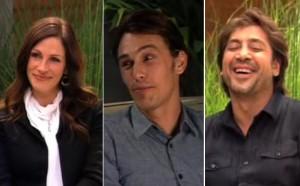 Javier Bardem was nervous to work with Julia Roberts, who was nervous to film a sex scene with James Franco, who was the only calm, cool and collected actor on the Eat Pray Love set!
OK! GALLERY: JULIA ROBERTS & JAMES FRANCO EAT, PRAY & LOVE IN NYC
James was more excited than nervous to be filming opposite Julia for the upcoming film, Eat Pray Love. He insisted to Extra that it was Julia who was so shy she didn't even want to kiss him.
Article continues below advertisement
Reluctantly, Julia agrees that when it comes to love scenes she is painfully shy!
But her fears were shared by her other co-star Javier, who said he was very nervous to work with Julia.
"I don't know," he said when trying to explain why. "I've seen her in so many movies and great performances."
INTRODUCING OK!'S ONLINE BOOK CLUB —EAT PRAY LOVE
Javier also talks about his fear of driving.
"I don't drive," he said. "I do know how to get a car to here from there, but I can not turn. Turn is too complicated for me and I know for American people it's very hard to understand that there are some people out there that don't drive. In Madrid where I live, I usually go walking."
Watch the interviews with James, Julia and Javier below!
Eat Pray Love hits theaters Aug. 13!
And it's not too late to join OK!'s online book club for Eat Pray Love every Tuesday night at 8 p.m. ET!