NEWS
VIDEO: Justin Timberlake Seeks Feedback From Friends on New Facebook Flick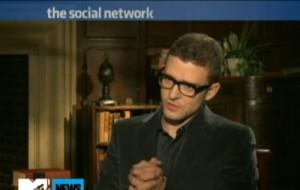 The highly-anticipated film The Social Network is bound to leave audiences taking sides when it hits the box office this weekend. The David Fincher-directed flick depicts the founding of Facebook, and all of the legal matters that surround the beloved social networking site and its creator Mark Zuckerberg. Star of the film Justin Timberlake explains how he looked to his friends for their reaction on the situation.
Article continues below advertisement
"There was a screening in Los Angeles and my friends were very excited to see this film and I was excited that my own friends were excited to see a film that I was in, so I scored some tickets for the screening," JT, who plays Napster co-founder Sean Parker, told MTV News. "And I took all of them and it was about eight of us so we carpooled and caravanned in two cars. When we walked out, we all went to get some dinner afterwards and immediately the conversation just started."
"I just posed the question 'So what did you guys think of the film?' and without me prodding or steering the conversation in any way ... there was a couple of my friends that are married and watching her talk about who she empathized with and watching him say who he related to ... that conversation and then somebody else chimed in," he continued. "It was split between every person there."
MORE ON:
Justin Timberlake
Article continues below advertisement
So what was the verdict from JT's posse? They remain divided.
"I was like, 'Wow,' and I think that spoke true to what people will do when they see the movie," he said. "But one of my friends specifically said — he sort of brought some finality to the situation because he just wanted to eat. He was like, 'I don't 100 percent agree with any of the characters, but I don't disagree with any of them.' Life is life. Things happen sloppily."