NEWS
VIDEO: Justin Timberlake Talks "Panty Dropping" on 'The View'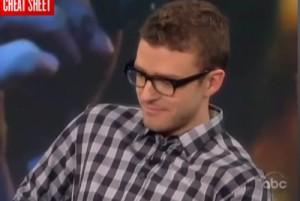 The stars of the highly-anticipated (already acclaimed) film The Social Network stopped by The View today. Justin Timberlake, Jesse Eisenberg and Andrew Garfield chatted with the group of ladies, and the conversation somehow wandered into an awkward discussion about panties.
Co-host Sherri Shephard asked JT about handling fame, especially when he can't walk down the street without "some girl trying to drop her panties everywhere you go."
Article continues below advertisement
"Is there any advice you would want to give to Jesse or Andrew about the fame of not being able to walk down the street?" Sherri asked the hunky singer turned actor.
"I would say my advice to anyone would be to not drop your panties," JT quipped.
The Social Network opens up nationwide today!