NEWS
VIDEO: K-Stew's 'On the Road' Co-Star Says "She's Fantastic"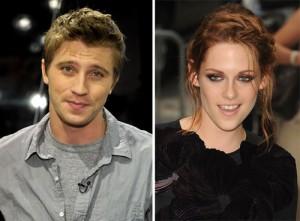 Kristen Stewart is officially On the Road and her co-star Garrett Hedlund says she's perfect for the part.
OK! GALLERY: ROB & KRISTEN CATCH A CONCERT AS A COUPLE
"I've been on On the Road since the fall of '07, and it's sort of been on my mind since then," Garrett told MTV News. "When we jump onto projects like this, we've sort of got to tie that kite to a post and hope that it's still flying as high as it was when you come back to it. Luckily, now with coming off Tron and going into that, we've got to take that kite off."
Article continues below advertisement
Garrett and his fellow Tron Legacy and On the Road co-stars confirmed the "boot camp" for On the Road is underway in Montreal right now to prepare for an August shoot by "intensive research with biographers."
OK! VIDEO: KRISTEN CLEARS UP CAREER CHATTER
"She's got it all there. She's where she needs to be and further. She's fantastic," he said of Kristen, who plays the wife Garrett's character, Dean Moriarty, in the film.
"We've had wonderful times up there in Montreal. Just hoping to make a wonderful film that can fulfill everyone's expectations of what this can actually be," he explained. "The family that we're surrounded by is wonderful and unbelievable and, for me, I'm kind of on cloud nine."