NEWS
VIDEO: Kate Gosselin Admits Collin & Alexis Have "Anger Issues"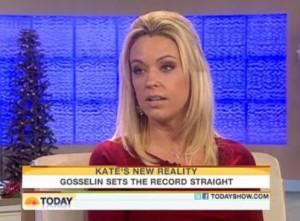 Kate Gosselin is once again "setting the record straight" on the Today show. This time she's speaking out on the reports saying her children Collin and Alexis were expelled from school.
OK! GALLERY: KATE GOSSELIN SQUEEZES IN TIME FOR A QUICK TAN
Kate said it is not true that her children Collin and Alexis were expelled from school, but did say they are now being tutored privately.
"We have a situation where my kids are in an academically excelling school where academics are pushed and I fully support it," Kate said on Today this morning. "Combined with kids who are having just gone through a divorce of their parents, suffering all of those normal feelings and the two collided and they just were not doing well with the combination."
Article continues below advertisement
OK! GALLERY: KATE GOSSELIN TOTES HER TOTS TO SCHOOL
"What is the problem?" Meredith Vieira asked. "What's happening with them?"
"They were having anger issues," Kate said. "They were acting out having behavior things."
"I did what I could do," she added. "We mutually agreed. I brought them home. I have them with a private tutor, an early education teacher, and she's teaching them one-on-one. They're excelling along with weekly therapy. My kids are back. They're happy, they're functioning, they're well and all is well again.
Watch Kate's interview below!