NEWS
VIDEO: Katy Perry Takes 'Sesame Street' Snub to 'SNL'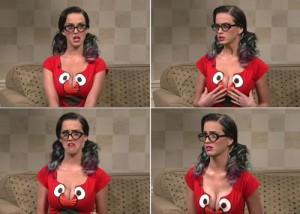 Katy Perry was the scheduled musical guest on the season premiere of Saturday Night Live this weekend, and the songstress did not let the opportunity to address her exile from Sesame Street pass by. Katy appeared in a skit mocking the cancellation of her duet with Elmo from the hit children's program.
Katy made an appearance on the "Bronx Beat" sketch starring Amy Poehler and Maya Rudolph.
The big-chested beauty played Maureen, a teen who has "blossomed over the summer" and was now bursting out of her Elmo shirt, showing some serious cleavage.
Article continues below advertisement
"You know what, who cares if kids are looking at boobs," Maya said as one of the ditsy co-hosts of the humorous skits. "Boobs feed babies, boobs feed babies."
Katy must have had a great time on set and left with some new friends.
"Dear Kristen Wiig can I have a lock of your hair... to put under my pillow...to touch before I go to bed every night...kthnxbye" she Tweeted, with hearts around Kristen's name.
In other Katy news, while she may be to hot for Sesame Street, she is just right for a guest spot on The Simpsons.
Katy is gearing up for a guest appearance on the hit Fox sitcom airing December 5, Entertainment Weekly reports, via MTV News.
Catch Katy's cameo on SNL around the 3:00 minute mark!