NEWS
VIDEO: Kevin Bacon's a Devoted Kevin Bacon Fan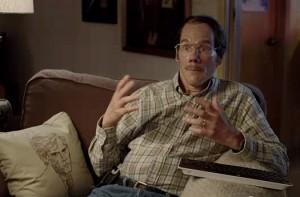 Kevin Bacon is owning up to it. He's a huge Kevin Bacon fan. In fact, he's his own biggest fan!
OK! GALLERY: KEVIN BACON & KYRA SEDGWICK GO ON A DINNER DATE
Okay, Kevin plays his own biggest fan in a new Logitech commercial.
"Logitech sent me like a breakdown for the ad. I read it and said, you know, it could be kind of cool, but I have to make sure that we're all in sync about it," he explained to Entertainment Weekly about how he agreed to do the ad.
Article continues below advertisement
"I didn't know how far they wanted to go with the look and the character. If it was just me kind of walking around, people would think it was weird," he added. "So I started to talk with the director, this guy Ringan Ledwidge. And he was like yeah, we should really go far with the character. It was sort of like any other character that you play. You have to figure out the back story and you gotta figure out who he is and what makes him tick, what's his life like."
OK! GALLERY: COUPLES CATCH THE RED CARPET ACTION AT THE 2010 EMMYS
So what was it like playing a crazed Kevin Bacon fan?
"It was a really fun day of shooting. The art director put that stuff together ... I walked into this house and I was like, 'Oh my god, you gotta be kidding me,'" he said of all the fan memorabilia shown in the ad. "I loved it."
And there might be more to come!
"What's on the air is really just a tiny taste of what we shot. There's a lot more there. I would hope it will be released, I don't know," he said. "It's up to Logitech."