NEWS
VIDEO: Lady Gaga Goes Naked for Supreme Photo Shoot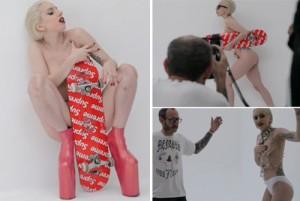 First she hatches out of an egg, now she hatches out of her clothes! Lady Gaga stripped down for a wet and wild naked photo shoot for Supreme brand this month, and the video from the shoot is pretty revealing.
Pictures from the shoot were featured in the French magazine, Purple, according to the Huffington Post, and were shot by famed celeb photographer Terry Richardson.
Article continues below advertisement
The photos are definitely racy, but a behind-the-scenes look from the shoot is even more risque (and a bit raunchy).
Gaga goes topless, bottomless, wears fisnets and covers her nude body with a skateboard.
At one point in the clip, a little boy wearing a Supreme T-shirt hops on set, which seems a bit inappropriate.
Catch the clip below and share your thoughts in the comments!