NEWS
VIDEO: Lady Gaga Releases Teaser for 'Alejandro'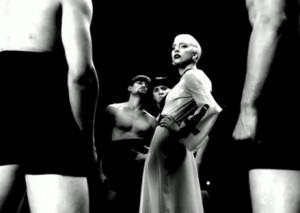 Oh, that Lady Gaga! Such a tease! Considering how epic her last video was, for "Telephone," we're not surprised that she's already whipping her Little Monsters into a frenzy with a new, 19-second teaser clip for "Alejandro."
Gaga has quite a Madonna-esque "Vogue" look going on, from what we can tell — she's all swept-back blonde hair and sexy suits and surrounded by handsome men... of course!
Article continues below advertisement
CATCH THE CLIP BELOW:!
COMPARE WITH MADONNA'S LOOK IN "VOGUE":