NEWS
VIDEO: Lil Wayne Speaks Out for First Time Since Release From Jail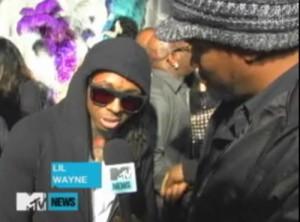 Lil Wayne has spoken out for the first time since his release from jail — after serving eight months of his one year sentence — on Thursday. His family and friends gathered Sunday night in Miami to celebrate Weezy's freedom, and the rapper is more than ready to move on, putting his stint behind bars behind him.
"I forgot about yesterday," Lil Wayne told MTV News of his new-found freedom last night on the red carpet of his "Welcome Home, Tunechi" party.
Article continues below advertisement
The rapper hit the carpet with two Las Vegas-esque showgirl dancers and a cigar hanging out of his mouth, staying covered by a hood and black sunglasses.
"Wayne's a shot-caller, whatever he wants to do it's green light," Bryan "Baby" Williams, Wayne's label head, told MTV. "We just glad he's home and we just want to pop bottles tonight and have fun."
Drake, Nicki Minaj, Rick Ross and others attended Wayne's freedom bash at Miami's King of Diamonds strip club.
"I wanna thank everybody," Wayne added. "Not only MTV fans, but the fans across the whole world. Most of all, my family. I couldn't do it without them and I would never do it without them."
The artist's highly-anticipated Tha Carter IV album is tentatively slated for release in early 2011.