NEWS
VIDEO: Lindsay Lohan Brings Light to Linda Lovelace Role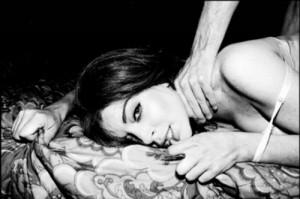 Even though Lindsay Lohan has been shut away at rehab, her presence is till everywhere through the various projects she had going on before her time behind bars. Lilo's close friend and celeb photographer Tyler Shields helped transform the 24-year-old socialite into the vulnerable porn star Linda Lovelace — which he captured in a behind-the-scenes video.
Lindsay completely transformed into Linda Lovelace for her upcoming film Inferno: A Linda Lovelace Story.
Article continues below advertisement
The video, via PopEater, gives a look back at Lindsay's candid shoot, and she opens up about the role where she plays the late porn star.
Inferno director Matthew Wilder, who shot the footage, admits Lindsay had the ability "to go in and out of very extreme emotions in a blink."
The character Lindsay plays was forced into prostitution by her husband, Chuck Traynor.
LiLo explains Chuck's appeal as "dark and mysterious and rough, and different from anything she had experienced in life. Girls like that kind of stuff."
She also describes her character as "an innocent girl who got trafficked into a situation."
The film will resume production in mid-November, following Linds' release from UCLA rehab center.