NEWS
VIDEO: Madonna Inducted Into Rock & Roll Hall of Fame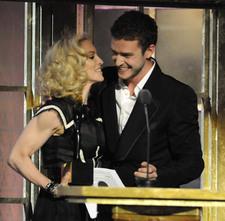 She's gone from Material Girl to Kaballah Mama, and now after nearly 30 years in the music business, she's reached legend status. Yesterday Madonna — along with John Mellencamp, Leonard Cohen, the Dave Clark Five, the Ventures and songwriters Gamble and Huff — was inducted into the Rock & Roll Hall of Fame.
The new class of inductees was feted yesterday at the Waldorf Astoria Hotel in New York, and enjoyed a special performances Mellencamp, Patti Labelle and Iggy Pop and the Stooges, who performed two Madonna classics, "Like a Virgin" and "Ray of Light."
Article continues below advertisement
The night was full of tributes. Madonna was introduced and brought to the stage by recent collaborator Justin Timberlake. Timberlake recalled Madonna offering the tired singer a shot of B-12 vitamins one day. Madonna pulled out a syringe and told him to drop his pants. Afterwards "she looked at me and said, 'That's top shelf,' and that was one of the greatest days of my life," he said.
In a not-so-veiled reference to his past loves, Timberlake also said, "The world is full of Madonna wannabes. I might have even dated a couple. But there is truly only one Madonna."
MORE ON:
Justin Timberlake