NEWS
VIDEO: Memorable Celebrity Commencement Speeches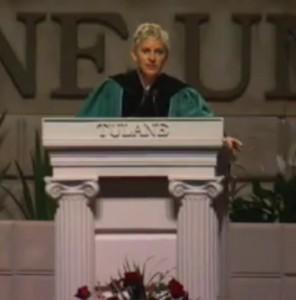 With graduation quickly approaching for many students, PopEater took a look at the best celebrity commencement speeches who turned the time to snooze at commencement into the moment students will remember more than tossing their caps!
Check out these celebrities PopEater picked that made commencement more memorable!
OK! NEWS: MERYL STREEP TO DELIVER COMMENCEMENT SPEECH AT BARNARD COLLEGE
Conan O'Brien got his start at National Lampoon, Harvard's comedy magazine and in 2000 he went back to campus to show his appreciate with a comedy speech.
Article continues below advertisement
Ellen DeGeneres didn't ever go to college. "I'm not saying you wasted your time or money," Ellen told the 2009 graduates of Tulane, "but look at me. I'm a huge celebrity."
OK! NEWS: OPRAH'S WORDS OF WISDOM FOR COLLEGE GRADS
Oprah Winfrey may not be a comedian, but she's definitely an inspirational speaker and the 2008 graduates at Stanford University would agree.
And one we couldn't leave out, President Obama's speech to the 2009 graduates of The University of Notre Dame about finding common ground on issues such as abortion.