NEWS
VIDEO: Michaele Salahi Speaks to 'Today' to Clarify 'The View'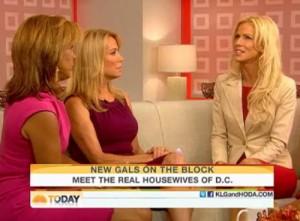 Real Housewives of D.C. star Michaele Salahi spoke to Kathie Lee Gifford and Hoda Kotb on Today about her appearance on The View saying she never accused Whoopi Goldberg hit her, but she was berated.
OK! GALLERY: REAL HOUSEWIVES OF NYC LOOK LOVELY AT LAUNCH PARTY
The new cast of The Real Housewives of D.C. appeared on The View on Wednesday and drama ensued when Whoopi reportedly went up behind Michaele, shook her arm and asked her to move on and talk about the White House party crasher allegations.
Article continues below advertisement
Michaele's lawyer told Entertainment Tonight that after her appearance on the show she was in tears and, "She told a show producer she was upset that Whoopi Goldberg had come up behind her and grabbed her arm. The producer went to get Ms. Goldberg, who then yelled a long series of profanities at Mrs. Salahi, accusing her of accusing Ms. Goldberg of 'hitting' her.
"Mrs. Salahi said she'd never said that, got the producer back in the room, and the producer admitted that 'hit' was her word, not Mrs. Salahi's," her lawyer continued. "Ms. Goldberg continued to verbally berate Mrs. Salahi, refused to apologize for her language or her on set behavior, and left the room."
Article continues below advertisement
"When I got off the show I was still fine, but I think her coming in saying f this, f that." Salahi explained and said she told Whoopi, "I never said you hit me. You grabbed my arm. ... I think I started crying ... because they berated me."
"'You don't know me," Michaele said Whoopi told her. "I say f you, but I don't mean that.'"
"I don't know that," Michaele said. "I know her from Sister Act, so I don't expect a sister to say f you."
Watch the clip below!
OK! GALLERY: COUNTESS LUANN & JILL TAKE THE STREETS OF NYC
Meanwhile while all this Michaele drama is being discussed, her Housewives co-stars are sitting politely next to her, but not for long.
Although the show hasn't even aired yet, the ladies are making it clear that they are not friends.
Watch the clip below!
The Real Housewives of D.C. premieres tonight on Bravo at 9 p.m. ET!