NEWS
VIDEO: Mike Tyson Incoherently Tackles His Oscar Predictions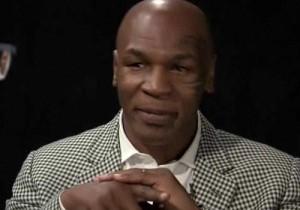 Mike Tyson knows a thing or two about the movie industry after his cameo in The Hangover, so why not have the world champion boxer weigh in on the Oscars? In a new clip, Mike sits down with film critic Leonard Maltin to discuss his picks; however, things don't go exactly as planned.
In the hilarious clip from FunnyOrDie, Mike offers his best incomprehensible/jumbled/garbled responses to Maltin's movie questions.
Article continues below advertisement
The legend starts off raving about Halle Berry's performance in Avatar, calling the 2010 film (which lost out to The Hurt Locker) "just stupefying."
Mike then insists that Meryl Streep is nominated for All The Kids Are Here and also jabs at Mark Wahlberg of The Fighter claiming he couldn't hold his own in the ring without The Funky Bunch.
As for best picture, Mike says his own film The Pigeon Whisperer was snubbed from a nomination.
While he definitely has some strong opinions, communicating them is the tough part! Catch the hilarious clip below!