NEWS
VIDEO: Miley Cyrus Bong Incident Gets 'SNL' Treatment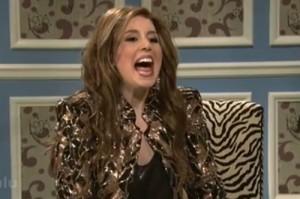 Miley Cyrus has been at the center of a media firestorm since she was caught on tape smoking from a salvia-filled bong. While the singer is moving past the incident by focusing on her latest film, it's no surprise Saturday Night Live decided to partake in some playful mocking at Miley's highly-publicized experimentation with drugs.
OK! GALLERY: MILEY CYRUS & HER MOMAGER TISH HANG OUT ON SET
On Saturday's show, with special guest star Jeff Bridges, viewers saw the return of the "Miley Cyrus Show" skit, brought back to address the 18-year-old "Can't Be Tamed" singer's most recent controversy.
Article continues below advertisement
"As you may have recently heard, I had a very serious five minute drug problem," SNL's Vanessa Bayer, who portrays Miley in the skit, quipped. "My friend videotaped me smoking a legal drug called salvia and the video ended up on TMZ. So what happened was, I got really high, like, really high."
Jason Sudeikis plays Miley's dad, Billy Ray Cyrus in the spot as well.