NEWS
VIDEO: New Kids Make a Wet Return to the Stage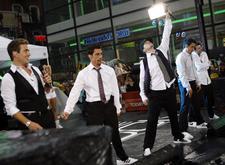 Despite the early hour and the rain, fans of New Kids on the Block have waited a long time, since 1994 to be exact, for the return of their favorite boy band. And even with the sopping wet weather, Joey McIntyre, Jordan Knight, Jonathan Knight, Donnie Wahlberg and Danny Wood didn't disappoint.
The crowd outside NBC studios started forming on Wednesday morning, and by showtime, there were about 3,000 NKOTB fans. Al Roker even joked, "I haven't seen a crowd like this since Ricky Martin and 'Nsync's first performance." Though Al must have had 'Nsync on the brain because, when throwing it back to the weather, he added, "Rain couldn't dampen all the spirits of 'Nsync fans... there are airport delays from Washington to Boston." Oops, Al... We think you meant NKOTB...
Article continues below advertisement
And it appeared that the boys were loving the show just as much as the fans. "We could get very weepy right now and sappy, because we absolutely have the greatest fans in the world," said Joey. "It's amazing."
To kick off the Today Show Concert Series, the boys performed a medley of "Step by Step", "Hangin' Tough", "The Right Stuff" and "Please Don't Go Girl" before singing their new single, "Summertime."
MORE ON:
New Kids on the Block
Tomorrow, they will head to Z100's Zootopia at the Izod Center in East Rutherford, N.J and later this year will be touring the country.
They still have the right stuff!
By Alisandra Puliti