NEWS
VIDEO: Nikki Reed Reveals Rosalie & Bella's 'Breaking Dawn' Relationship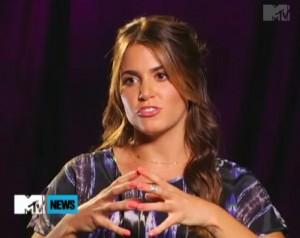 Nikki Reed's Twilight character Rosalie has never been especially fond of Kristen Stewart's character Bella, but in The Twilight Saga: Breaking Dawn they form a strong bond and Nikki thinks she knows why!
OK! GALLERY: KELLAN & NIKKI HEAT UP LAX
MTV News chatted with Nikki about the changes her character goes through in Breaking Dawn and why she believes she warms up to Bella.
**WARNING: SPOILER ALERTS BELOW!**
Article continues below advertisement
OK! NEWS: BREAKING DAWN SET TO FILM IN VANCOUVER & LOUISIANA
"What is that saying: Nothing makes two people bond more than the hate of another?" Nikki said. "I kind of feel like that describes Bella and Rosalie's relationship, but in relation to love in Breaking Dawn, because they both love this child so much."
Nikki believes that it is Bella and Edward's baby, Renesmee, that brings Rosalie closer to Bella.