NEWS
VIDEO: OK!'s Sexy Singles Divulge Their Secrets!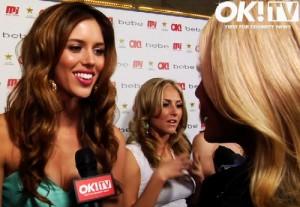 Hollywood's hottest names took over Plush on Wednesday night in L.A. for OK!'s Sexy Singles event, and OK!'s video cameras were there to catch all the action! So what does it take to be sexy? We wanted to find out!
While inside the party celebs dined on cupcakes, champagne and Star Vodka. The stars were treated to special mints by bebe models outside on the red carpet, and dished on how they get in a sexy state of mind.
Article continues below advertisement
"Oh, God, I just don't put pressure on myself," admitted The Vampires Diaries star Kayla Ewell, decked out in in a cute bebe minidress. "Because the second you do, nothing turns out right."
OK! GALLERY: OK!'S SEXY SINGLES PARTY IT UP IN L.A.
"Confidence," declared Josie Loren of Make It or Break It, flanked by her costars Chelsea Hobbs and Cassie Scerbo.
Other replies included, "working out," "lots of moisturizer," "pump up the lips!" and for one of music's hottest new artists, Lolene, well, she's just "electro-sexual"!
CHECK OUT THE VIDEO BELOW:
By use of this code snippet, I agree to the Brightcove Publisher T and C
found at https://accounts.brightcove.com/en/terms-and-conditions/.
-->
This script tag will cause the Brightcove Players defined above it to be created as soon
as the line is read by the browser. If you wish to have the player instantiated only after
the rest of the HTML is processed and the page load is complete, remove the line.
-->
FOR MORE ON OK!'s 50 SEXY SINGLES, CHECK OUT THE NEW ISSUE — ON SALE EVERYWHERE NOW!